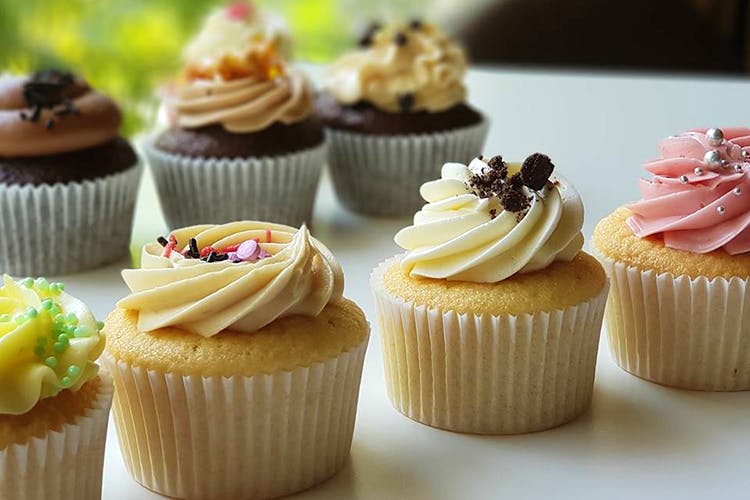 Follow This Route To Get The Best Desserts On TTK Road
Did you know that our very own TTK Road has eight dessert stops? From cupcakes, ice creams, to milkshakes, there is a lot on just this one stretch that you can choose from. Follow our route that begins from Music Academy.

Freeze Zone
One of the oldest dessert parlours on TTK road, this place still retains a simple decor and give us major home-feels even today. The ice creams from their classic collection are perfect for reminiscing old times. Banana Fantasy, Truffle Sensation, Blueberry Treat, and more start from INR 160. They've got combos as well, two ice creams are just INR 90. Miss the good old softy cone? Worry not, as you can get those right here! If you love fruit in your desserts, try their ice fruit rolls starting INR 100.

Oh So Stoned!
Bang in the middle of TTK road, this dessert parlour has people hopped up on their frozen delights until 1 AM! They have sundaes, which have junior (Jr.) and senior versions starting INR 110. If you're nuts about ice cream, try their nutty Chikki Chikki Bang Bang, a crunchy blend of butterscotch and vanilla ice cream with chikki and hot caramel sauce. Their Dessert Saga has an extensive range of desserts including the American Pie (vanilla ice cream, apple pie filling, cinnamon sugar, hot caramel sauce), Say Cheese (vanilla ice cream, cream cheese, cheesecake, and berries), and more starting INR 130. They also have ice cream fingers, tacos, milk shakes, and snacks, too.
Cream Stone
Open from 11 am to 1.30 am, Cream Stone is known for their midnight crowd, this place has everything from cones and Fundaes (cookies and cream, rose chikki, and pick me up), and to exotic flavours of the month. Their dessert plates are super filling and come in different flavours including Red Indulge, Brazilian Brownie, and more starting INR 150. They have a bunch of milkshakes, thick shakes, soda pops, and freaky shakes starting INR 95. Oh, and you can, of course, create your own ice cream blends at this place too.
Drunken Monkey
Looking for some non-traditional, new-age, healthy desserts? Check out Drunken Monkey to get your dose of sweet and healthy! They have a bunch of interesting juices and milk shakes starting INR 150. If you love the classic chocolate ice cream blend, try their Monkey Confidential, their fastest selling shake! In the mood for something new? They have some amazing smoothies, too!

Kulfi House
Kulfi lovers, get the best variety of Kulfis starting INR 50 at this place. You've got the regular flavours (malai, choco chips, kesar pista) and special ones (roasted almond, crunchy caramel, fid, and more), and there's sugar free flavours as well! If you're chilling with your fam, show them some love and get a family pack or a huge falooda starting INR 170. Not in the mood for ice cream? Slurp down a large milkshake of your fave flavour starting INR 150.

Cupcakes Amore
For all the cupcake lovers out there, don't worry, we haven't forgotten! Cupcakes Amore has the perfect fix for your cupcake cravings! Fresh Lemon, Double Chocolate, Mocha, and more freshly baked delights starting INR 90. There's also brownies, doughnuts, and cookies starting INR 70. Want those fresh-out-of-the-oven, classic home made choco chip cookies? You know where to go!

The Baker Ninja
This place on TTK Road has macarons, cheesecakes, and more starting INR 60. Munch on their Belgian Dark Chocolate or classic Red Velvet Cupcakes starting INR 100. They have some yum cheesecake slices and healthy cakes starting INR 175. Want a tiny snack? Get a warm brownie or a crunchy cookie before you settle in for the night. They've got hot drinks for these rainy nights, too! What better way to finish your day than sipping on some comforting hot chocolate?

The Chocolate Heaven
For your nightly waffle cravings, go to this place where you can get 13 kinds of waffles starting INR 200. They have Freak Shakes like Monster Brownie (Chocolate milk shake, ganache, whipped cream, chocolate sticks, and more) and Strawberry Blast (Strawbery milkshake, rainbow vermicelli, marshmallows, and more) starting INR 300. Try one of their chocolate shake starting INR 200. Ferrero Rocher, Kit-Kat, Bounty, what's your poison? There's all kinds of crazy combinations including Toblerone shake and Mars shake!

Ask Aasha a question