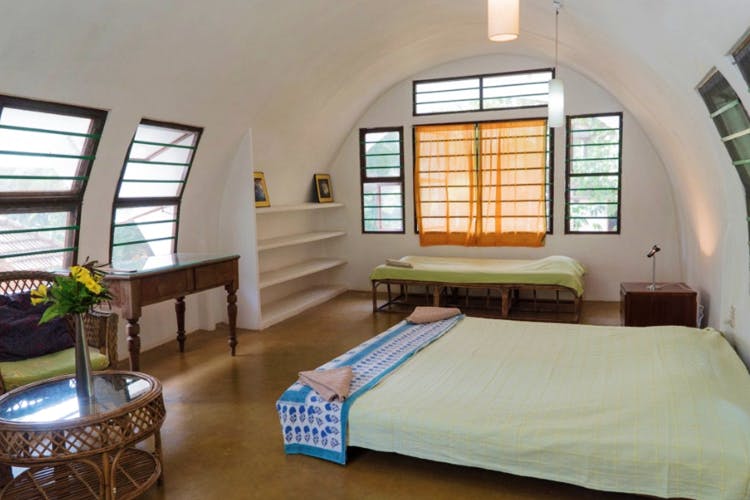 Budget Travellers! We Found 5 Awesome Guest Houses In Auroville For As Low As INR 590
Auroville has plenty of guesthouses you can stay at during your visit. They're cheaper than staying in a hotel and because they're run by the residents of Auroville you get a chance to see what Auroville is like as a local. So without further ado here are five of some of the best guest houses you can stay at in Auroville.
Arka Guest House
This guest house offers large spacious rooms to its patrons as well as access to their library, spa, internet café, and lush garden. Amenities wise they have rooms with air-conditioning, hot water, mosquito nets, and 24/7 drinking water. While it is spartan, we especially like the effort they've taken to make the entire guest house accessible by wheelchair. There are ramps and guardrails in public and private spaces and we're honestly surprised that other guesthouses don't have them as standard. Arka is a great choice for anyone looking to learn about yoga and body health as they have classes and seminars about them taking place through the year.
Atithi Griha Guest House
Atithi Griha is one of the most well-known guest houses in Auroville, thanks to its unique architecture. You'll immediately notice how airy and breezy their space is without air-conditioning thanks to their traditional architecture. Common areas have plenty of archways and rooms have a distinct Chettinad-style construction that can be seen from their use of pillars and central open spaces in living areas. Unlike Arka, Atithi Griha doesn't have air-conditioned rooms so you'll really have to trust us when we say you really won't need it. It's also one of the cheapest options on this list with rates starting at INR 590. We particularly like that you can rent cycles here to ride around Auroville.
Center Guest House
Center Guest House is quite possibly the oldest guest house on this list and is most certainly the prettiest. As the name suggests its central location is a short walk from Auroville's notable sights like the Matrimandir, the Solar Kitchen and the Visitor's Centre. There are air-conditioned cottages that have their own sit outs, a common dining area and a beautiful garden with a massive banyan tree that offers plenty of shade. The central location and the fact that their space is a little more luxurious than the other guesthouses mean that Center Guest House's prices start at INR 1,500 per night.
Creativity Guest House
This guest house, unlike the others, is aimed at long-term guests of Auroville as they have a minimum duration of stay which is five days. The longer your stay the cheaper each individual day costs. The rooms are also built as such that there's plenty of storage space in the form shelves and cupboards, writing desks and chairs in most rooms and laundry options as well. To add a little flavour to your stay, the rooms have strong colours like blue and yellow on the walls, cute paintings, and warm light fixtures to ensure you come back to a lively space after a day's worth of exploring. The dining area is shared with other guests and you'll have breakfasts included in your room charges.
Tanto Far Beach Guest House
The last on the list, Tanto Far Beach Guest House is our favourite. Located outside Auroville on the closest beach, Tanto Far Beach Guest House is run by the famous Aurovillian Italian restaurant Tanto. The guest house is very close to the ECR branch of Tanto and the coolest part is that they deliver to the guest house for free! The rooms themselves are tiny cottages with kitchenettes, toilets and sleeping spaces, and start from prices as low as INR 1,200 per night. Each cottage enjoys a view of the sea and you'll be pleased to know that you can enjoy it with a beer in hand as drinking is allowed here (because drinking otherwise is prohibited inside Auroville).
Pro-Tip
Do note, Auroville guesthouses need to be booked in advance because they are always in demand!
Comments