Try 63 Dishes As Part Of The Virundhu At This New Restaurant!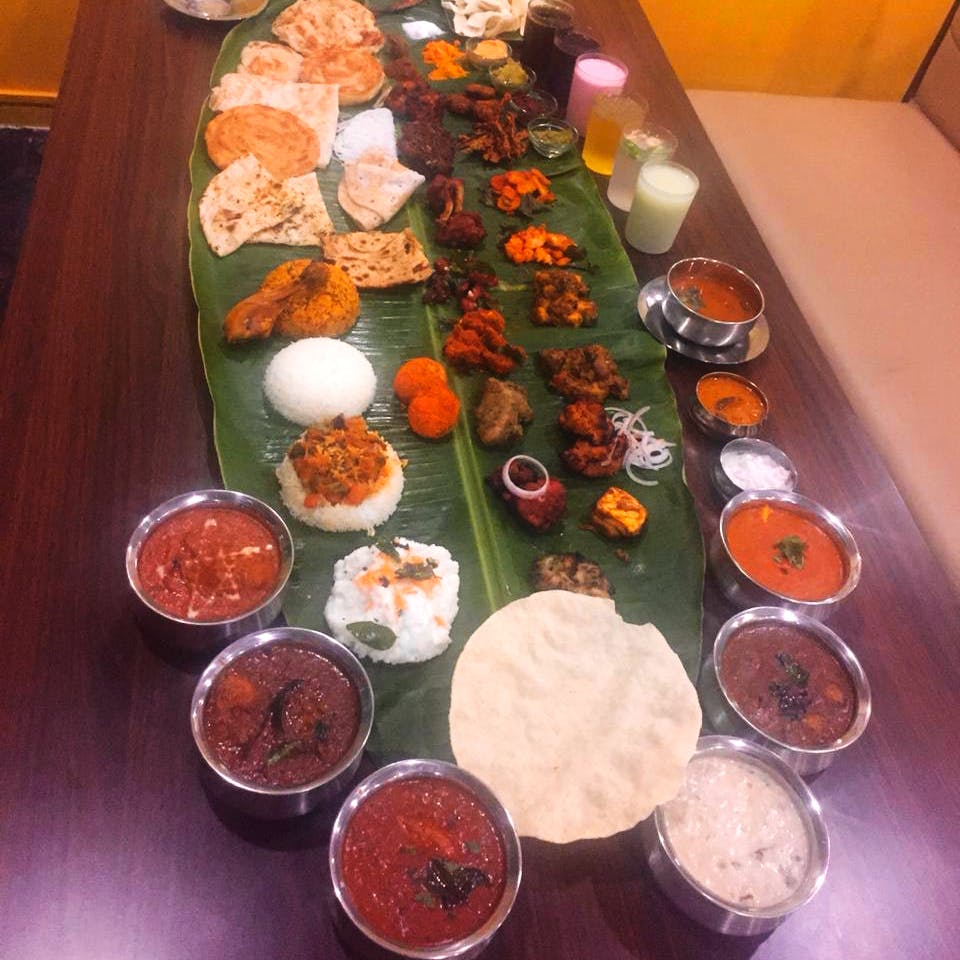 Shortcut
Devour 63 different kinds of dishes as part of the virundhu at the newly opened at Kokkarakko in Kodambakkam.
What Makes It Awesome
We suggest you starve a little before you go to Kokkarakko. No, we are not kidding. Their Kokkarakko Virundu has 63 items in the menu, each one giving you a distinct taste and making you want for more. The menu has been designed by Chef Koushik aka The Mad Chef. So expect various twists and turns while devouring that 'ultra full meals'. The team strategically introduced the virundhu (an elaborate meal) after the month of purattasi (a month when people in Tamil Nadu don't indulge in non-vegetarian food).
The meal starts with panagam (the sweet drink that is specially prepared during Ran Navami). Then comes the crispy vadams served with four dips - avakkai mayo, tomato thokku (tomato pickle), karuvepillai thokku (coriander pickle) and mirapakai pachadi (the hottest of the lot). Don't let the thick tomato jeeraga soup fill you up. There's a lot coming your way.
The starters are our favourite. For vegetarians, there are options like Chettinadu Bash Potato, Karukumurukku Vendakai (goes best with curd rice), Chepankizhangu Roast (totally appealed to the Tambram in us), Tandoori Pookosu, Crispy Guntur Corn, Paneer Pepper Fry, Chettinadu Paneer Tikka, and Kalan Peratal (mushroom lovers can binge on this one). As for the non-vegetarian starters, you have options like Kozhi 65, Kozhi Vepudu, Mirapakai Kodi, Kokkarakko Fried Chicken, Kokkarakko Lollipop, Nellore Kodi Tikka, Butter Fried Chicken, Karuvapillai Kodi Tikka. Even though they are all just different variations of chicken, we were impressed how each dish has a very distinct taste. We can still feel them in our mouth! The chicken is tender and we are told they are all naatu kozhi. The kitchen is dadla and MSG free.
Five kinds of barotta, dosa, naan, paratta, we are sure one of them will appeal to your taste buds. You also have different kinds of podis and pickles to try.
The gravy section has enough choices for both vegetarians and non-vegetarians. We were expecting biriyani, but we were startled when we saw Veg Thalaserry biriyani. Does something like that even exist? Mad Chef gives us a little tasting and we give it our thumbs up. But we anyway will like it better with meat in it!
The dessert section is where Mad Chef shows off his skills to his fullest. To us, it is totally magical. Expect the most bizarre combinations but leaving you with a smile. Coconut Saffron Pudding, Rose Falooda, Pomegranate Payasam, Panjamirutham Panacotta (mind was blown), Thiruneveli Halwa With Ice Cream, and Black Forest Akkaravadisal. We are not going to tell you how these things tasted and will urge you to try them yourself.

If you still have the space for it, then go for the beeda. The entire meal costs INR 699.
What Could Be Better
The virundhu is exhaustive and needs time to enjoy every dish to its fullest. Like we said, walk in with a good appetite.
Pro-Tip
The restaurant also specialises in other kinds of poultry like Kadaknath or the black chicken, turkey, quail, etc. The Kadaknath is specially sourced from an organic poultry farm in Pondicherry. The restaurant will soon be open till 5 in the morning so you know where to head next for your midnight cravings.