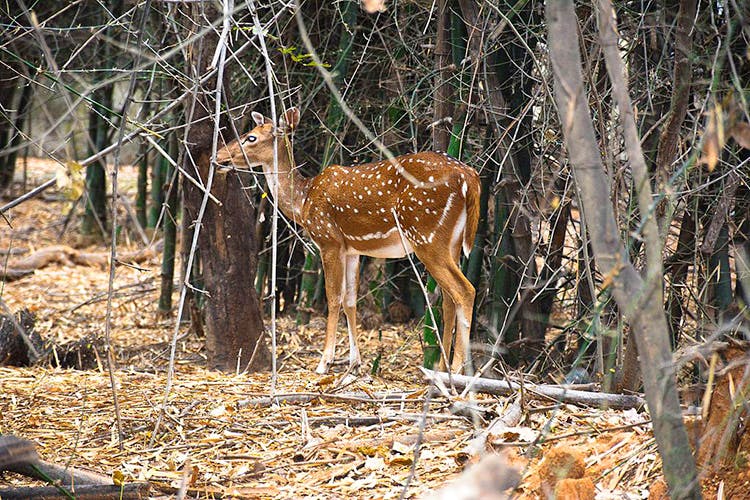 Things Gone Wild: Make A Day Trip And Check Out This List Of Zoos In Namma Chennai!
With the advent of theatres, pubs, malls, and restaurants, we often forget zoos that can be a great source of entertainment at the same time, a source of learning. Chennai that way is a lucky city - well, it has Arignar Anna Zoological Park aka Vandaloor Zoo, Guindy National Park and Snake Park, and Crocodile Bank.

Arignar Anna Zoological Park aka Vandaloor Zoo
This is the most popular of the lot. This zoo is also considered to be one of the largest zoos in South Asia. The zoo originated in 1855 and was located near Park Town. But when the zoo got newer inmates and it was time to expand, it was shifted to Vandaloor Reserve Forest in 1979. No prizes for guessing the name now! Vandalur Zoo was renamed as Arignar Anna Zoological Park after the famous Tamil politician, Arignar Anna.
It takes almost an entire day to visit the entire zoo. What with 170 species of mammals, birds, and reptiles, this zoo has a lot to offer. Watch out for everything from sambar, blackbuck, nilgai, Nilgiri langur, lion-tailed macaque, baboon, llama, otter, tiger, jaguar, star tortoises, and different wild animals.
If Safari has been on your bucket list, then you could sign up for their lion safari park or deer safari park. They also have an elephant safari which is famous. If you are done saying hi to the animals, drop by their Nocturnal Section, Reptile Section, aquarium and library. So, have you started planning yet?
National Parks & Wildlife Sanctuaries
Guindy National Park
Located right in the heart of the city is this national park that is house to several wild animals with a special focus on deer, reptiles, and exotic range of birds. The park is also a great place for you to click some fantastic pictures and the park is open throughout the year. There is also a children's park inside the Guindy National Park. If you are there, you cannot miss the snake park. The exotic range of snakes is a major tourist attraction and you cannot miss. Pythons, vipers, cobras, you name the snake, and you will find it here.
They also have provisions for captive breeding or endangered species or snakes and crocodiles. One of the best parts about the parks is their show where they interpret the process of venom extraction.
National Parks & Wildlife Sanctuaries
Crocodile Bank
If you want to take a look at one of the largest collections of crocs, head here. They have crocs, alligators, and endangered species. They also have a herpetology research center. Since it is 40 kilometers away from Chennai, make sure you make a day trip out of it. They also have crocodile and snake breeding, along with venom extraction sessions. Don't forget to check out the turtles at the park. the latest entrant at the park at Komodo Dragons. Those little crocodiles are super adorable, so don't miss out to drop by a hi!
Comments