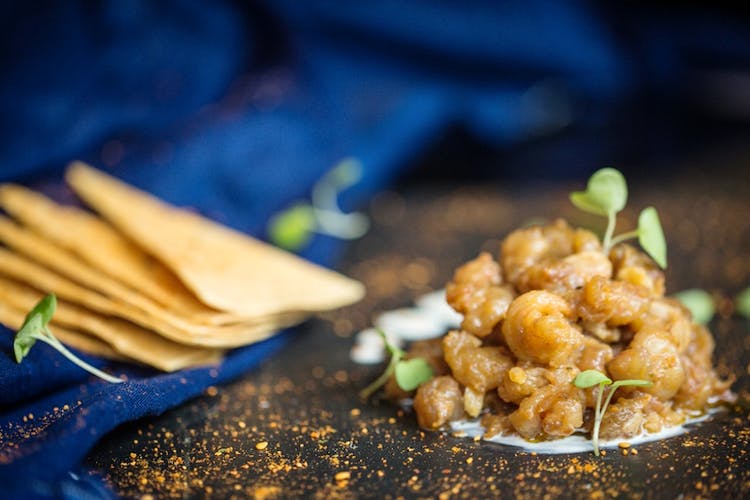 Delivery Available

Wi-Fi Available
Wasabi Prawns & Miso Glazed Salmon: This Spunky Asian Place Has A New Pop-Up Menu
Shortcut
Poached prawns with chilli lime jelly, Asian fish & chips, and shrimp & wasabi. Is this something that intrigues your palate? Then come on down to Mamagoto and try their latest pop-up menu called Mr Mamagoto.
Oh Mama!
So what is Mr. Mamagoto serving? Before we talk about the food, let's just appreciate the quirky décor of this spunky Asian restaurant for a second. We love the colourful walls and ceilings flooded with Asian art that they've recently redone – so fun! Obviously, we're expecting the new menu to be just as exciting. But was it?
We started off with the Poached Prawns With Chilli Lime Jelly from the Small Plates section and it was love at first bite. We loved the smokiness of the sesame oil with the zing of the kaffir lime. Second honours goes to the Shrimp & Wasabi Cream served with caramelised onion and crisp bread. Chennaites, we know our love for seafood which is why we absolutely recommend these two dishes to start off with.
Vegetarian? Worry not, because this meat eater fell in love with one veggie dish on the menu. A surprise entrant, the Sweet Potato & Oyster Mushroom Skewer was out of this world, tbh. The dish is an explosion of incredible flavours from the sweetness of the potato to the kick from the charred green chilli. We're amazed with what they've done with humble sweet potato although we wanted more chunks of mushroom to balance out the flavours in our skewer. But you must try this, if you love experimenting.
Prefer familiar flavours? Try the coconutty Rendang Kerala Curry with Paratha, which we loved for obvious reasons.
Light, But Satisfied
Other dishes you could try are the crunchy  Asian Fish & Chips with coconut infused peas, fluffy Hoisin Chicken Baos and the Miso Glazed Salmon. Didn't quite match up to the other dishes we recommended but still good enough. We washed down our food with the delicious Spicy Guava Lemonade (without alcohol, unfortunately) from the Mocktails section. We were disappointed that there was no dessert on this particular menu (gasp!) but hey, there's always the regular menu to choose from right. We still managed to make some space for the banofee pie. We liked that the food wasn't nauseatingly filling but good enough for a happy belly. Come by if you heart Asian fusion as much as we do; the new menu doesn't disappoint.
Comments
Delivery Available

Wi-Fi Available