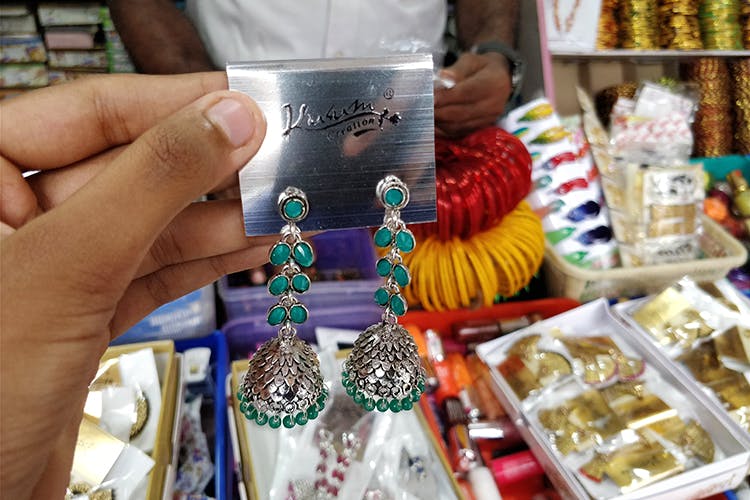 10 Money Saving Hacks That Will Make Your Life In Namma Chennai Way Easier
New to the city? Does every place seem super expensive? Don't worry, here are a few hacks that can help save money and go easier on your wallet.
Travel On A Budget
We've got transport that connects various parts of Chennai. Get on buses and share autos starting INR 5 to travel distances. Hop on MRTS Train or Metro Rail if you want to beat the traffic jam. You can even get a bus or train pass to make frequent travel easier.

Fill You Wardrobe Faster And Save Money On Shopping
Ditch the mall and hoard up on clothes and accessories by street shopping. There's just one rule here: Haggle, haggle. Get great deals on clothes, earrings, footwear, and more from more than 100 shops at Pondy Bazar in T. Nagar. For menswear, and branded clothing, hit up Spencer's Plaza Mall. There's also Saravana Stores that's got everything you need in your home. If you've got some free time, do a Mylapore Walk and shop all you want and snack on some podi idly, rose milk, and more iconic dishes.

Pretty Up Your Home
For those who can't compromise on home decor, shop for all your cutesy twinkle lights and lanterns starting INR 100 at roadside electric shops on Anna Salai, TTK Road, and T.Nagar. Get curtains, bedsheets, and more for affordable prices at Pantheon Road and Mint Street. Want branded stuff? Home Centre has a sale all year round, so get some cute pillows and lamps half off!

Fresh Fruits And Veggies At Area Markets
Head to Koyambedu Market for fresh-off-the-boat fruits and veggies. Each area in Chennai has iconic markets full of fresh farm produce. Endha area? Mylapore, Abhiramapuram, T.Nagar, name any place, and you can find markets where you can bargain and get yourself fresh veggies!

Munch At Messes And Budget Dhabas
From Nair Mess to Murugan Idly, Namma Chennai will make sure you never go hungry! Hit up Maami mess or Mylai Karpagambal Mess for super hot South Indian brekkie. Or, head to the iconic Rathna Cafe for the best podi idlies. For the full Chennai food experience, get lunch meals at affordable prices at Sangeetha, Saravana Bhavan, and more.

Entertainment For The College Gang
Have amazing experiences under INR 50 here in Chennai! Walk up to the lighthouse and experience the bird's eye view of Marina. Watch movies at Sathyam Cinemas starting INR 150. From now, every Friday is movie night!
Budget-Friendly Weekend Activities
If you're a nature lover, go to Guindy Park, Vandalur Zoo, or the Snake Park to be around animals. Cycle down the lanes of ECR or hang out at Bessy, Thiruvanmiyur Beach with your gang. If you're adventurous, catch some waves and take a surf lesson! If you've got some extra cash, take your squad and try the Mystery Room, VR Gaming, and the trampoline park!
National Parks & Wildlife Sanctuaries
Green Over Gym
Put your wallet back in and replace treadmills with actually running outside. Chennai has huge parks full of trees where you can go for your morning jog and do your daily yoga. Check out Semmozhi Poonga, Chetpet Eco Park, Anna Tower Park, and loads more every week! Not a huge fan of lawn? Run or walk your dog down the quiet roads of Boat Club avenue and De Monte Colony.

Budget Snacks
Head to Sowcarpet for you chaat cravings. They have some super creative dishes you've probably never tasted before. Try a murukku sandwich, onion kachori, and explore Gujarati, Marathi, and other cuisines from across India. And the best part? It's all wallet-friendly!
Bodhai On A Budget
Drink during Happy Hours at Hoppipola, where you can get drink starting INR 99. Get 2+2 drinks at Secret Society, Bike & Barrel, and Bay 146. Ladies, don't shy away on Wednesdays, where you can get budget drinks at various bars across the city. And for those who are broke and lazy, there's always a Tasmac nearby!

Ask Aasha a question