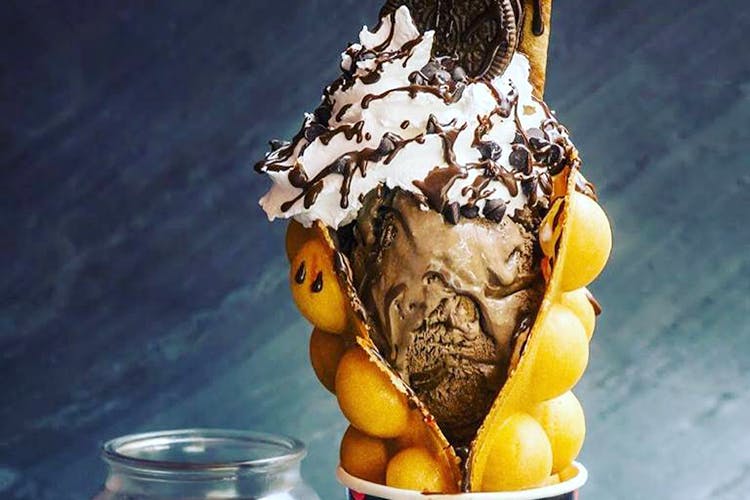 Have You Tried The Bubble Waffles & Ice-Cream Tacos At This Dessert Parlour On TTK Road?
Shortcut
Munchies galore? Or just in the mood for some sugary loving? Oh So Stoned has got you covered with its massive variety of sweet and sinful treats.
What Makes It Awesome
Most dessert parlours don't have enough items to fill a three page menu. Oh So Stoned has a whopping six-page dessert-only menu! Every page is a combination of different desserts mixed with ice-creams. The Cake section houses popular treats like the Oreo Cheescake (INR 219) and Mississippi Mud Pie (INR 219) that has Reese's Peanut Butter! And there's also their best seller the Banoffee Freeze, which is a mix of toffee and bananas. Yum!
But wait what's the Chikki Chikki Bang Bang? For INR 110, you get a mix of vanilla and butterscotch ice cream with everyone's favourite chikki, in hot caramel sauce. Heard of Ice Cream in a Taco? Well, they've got that too in four different flavours – Nutella (INR 152), Tiramisu, Fruity and Berry (INR 138). Though don't worry it's just a waffle folded into the shape of a taco and not an actual tortilla. Phew.
Ice-cream and cake? They've got it here too with versions like the Black Forest Cake and the Mocha Almond Fudge Cake both at INR 880. Another crazy combination is their Belgian Chocolate Bubble, which has Belgian chocolate ice-cream, enclosed in a bubble waffle wrap, with whipped cream and chocolate sauce on top. Absolutely sinful!
The beverage section houses their signature 'Thickshakes', that are so thick they give you a spoon to eat it with. The Red Velvet Shake and The Banoffee Shake are ones we want to try out. Though what if you want something even sweeter. They've got a 'Sugar High' section that contains the sweetest of shakes, like the Plain Jane made of vanilla ice cream with whipped cream and marshmallows, and even a Bubble Gum Shake that tastes like bubble gum!
Additionally, they don't use any synthetic flavouring. They make their own flavours and sauces using real ingredients. To top it off, they've recently introduced a savory section too, with fries, potato wedges, onion rings and macaroni too, all at INR 129! However, the part that excites us most is that it's open till 1am! Perfect for those midnight sugar cravings. We'll see you there!
Comments