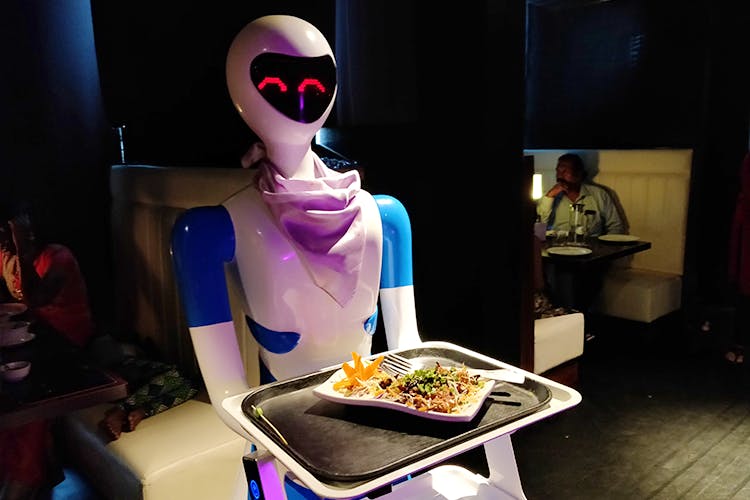 Peeps! Have You Been To This Robot Themed Restaurant In Chennai Yet?
Shortcut
Go nuts (and bolts) over India's first ever robot themed restaurant right here in OMR. Are you ready for some high-tech service? We sure were.
What Makes It Awesome
We've been eyeing this restaurant ever since it opened and finally took the long drive from Teynampet to Robot Theme Restaurant in Semmancheri. The restaurant is close to The Farm and Sathyabama University and you need to book a table two days in advance at least — the place is always packed, even on weekdays!
We got there just in time for lunch. Once you're assigned a table, head on up and enter a dark, futuristic world. Dimly- lit, the place has has single and double seater white chairs all around and the walls have neon paintings of robots. And there's a circular track for the bots to move along between the chairs and tables. Sit by neon lit lamps and place an order on their fancy tablet. Don't worry, there are humans around who can help if you're not sure how to make an order on the gizmo.
Once you figure it out, you'll get to see the menu. They have a host of Chinese and Thai dishes and you can choose anything from soups to seafood started and noodles and desserts. A click-click here and a click-click there and your order is sent to the kitchen (you can even mentions instructions like — no MSG, or less spice etc.).
Once you've placed an order just sit back and enjoy watching the four resident robots buzz past you occasionally . They follow a magnetic trail (that goes around the restaurant) and if you hop on in front of them they're even sassy enough to tell you: "You're in my way". And when they got to our table they even said things like "Please take it yourself" and "Let me get back to work". You can even click on her "hand" where there is an Exit button, so she can, in her words, 'get back to work'. And the service is pretty good, the bots don't take too long to serve your meal.
A bit creepy (the female robots reminded us of that demon nun from The Conjuring 2 to be honest) we have to say but also so fascinating — we were definitely awed by these robots. One should definitely come by for the novelty of the experience. It's going to be hard not to want to take pictures and videos and show off to your friends.
The food was less impressive though. And a wee bit expensive – a plate of starters costed INR 339 The highlight was the crispy paneer, which was good. We also had Spicy Corn Chicken soup, Tangy Chicken, Chilli Fish, Robot Special Rice and a brownie — none of which is worth writing home about. But while there, we were smiling throughout like idiots and constantly taking pictures and videos. Come by once at least for the experience if not the food. It is one-of-a-kind after all. Maybe in this case, four?
Comments