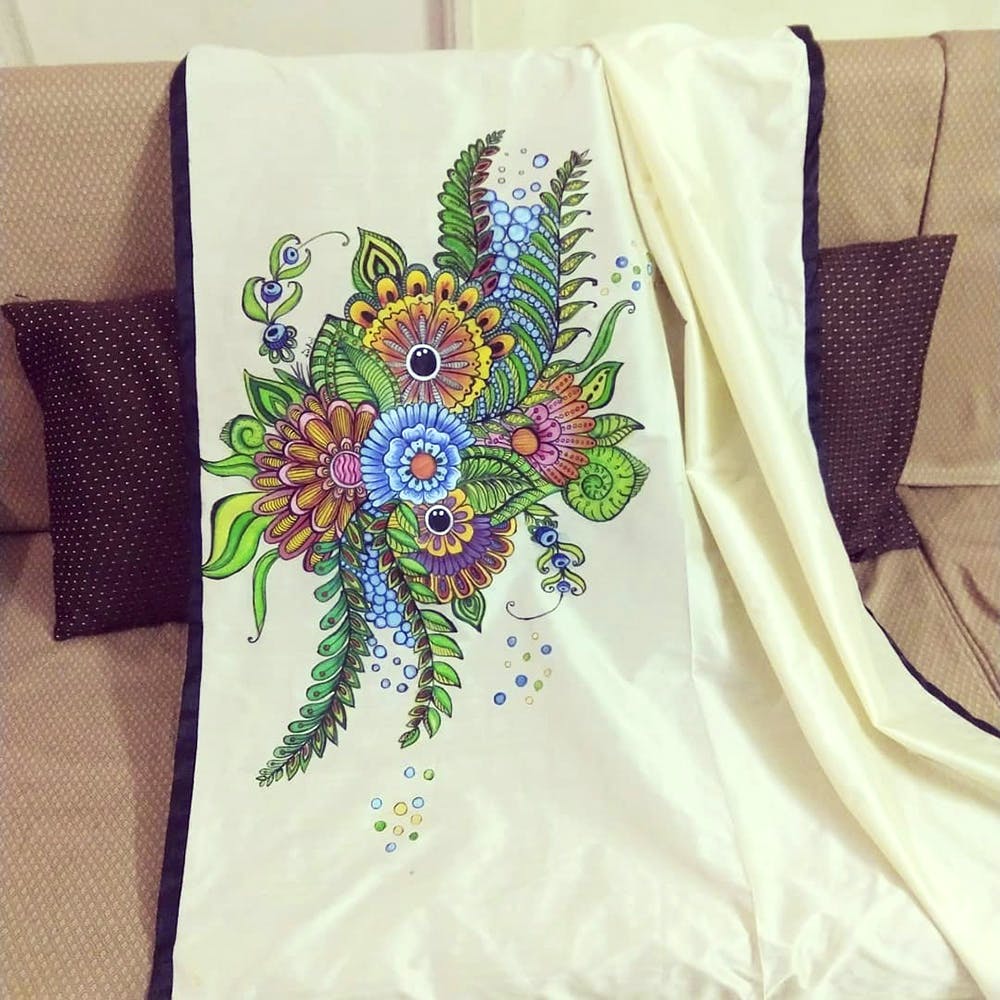 From Buttons To CDs, This Chennai-based Artist Can Breathe Art Into Anything
Shortcut
A passionate painter, Sneahal Paresh specializes in adding artistic touches to your old stuff and designing customized gifts for your loved ones.

What Makes It Awesome
If customized stuff is what you look for when it comes to gifts and apparel, you must seriously take a look at Sneahal Paresh's work. A Chennai-based artist, Sneahal has been blowing minds with her magical painting skills. Using her vivid imagination, she has been adding colours to the most basic and drab things, turning them into beautiful pieces of work. We're talking about hand-painted buttons with intricate detailing, repurposed old and torn sarees with paintings that makes them look brand new, upcycled CDs and more.

Whether it's an old or new kurta, saree or dupatta, Sneahal can paint any design of your choice onto it effortlessly. We particularly loved the intricacy of her Indian motifs and floral patterns, which look almost natural, like a print. Her work on old silk and georgette sarees particularly won us over. By masterfully blending painted designs with new fabric, Sneahal can help revive old and even torn sarees that may be of value to you. Prices for this start from INR 1500 and can go up, depending on the intricacy of the work.
Sneahal also does some spectacular work with buttons. Available in three sizes (small, medium and large), these can be customized to match your kurta with a dupatta that you really love or just add a fun element to an otherwise plain top. Priced at INR 125, the large-sized buttons are especially rad as they look more like an accessory when you wear/pin them to your kurta or top.
You can also get fabric patches designed for your outfits that can easily be pinned or stitched onto any garment like blouses, kurtas or sarees of your choice, here. Starting from INR 650, these measure upto 6x8 inches in size. Sneahal also does painting for pots, crockery, CDs which she repurposes to serve as candle stands, starting INR 150. You can also get T-shirts and shirts customized and designed for yourself or a loved one from Sneahal. Using them as a canvas, she can paint faces, add funky details of your choice and personalize them to your liking.
That's not it! Sneahal also does crochet and can make lovely bookmarks and earrings using that technique. From corporate logos to something as simple as a rose, she can recreate any design using crochet as the base and even takes bulk orders for these. So the next time you're planning a kitty or thinking of gifting something quirky as party favours, you can totally hit her up for some beautiful crochet merch.
Pro-Tip
Sneahal always adds an instruction card with all her customized apparel orders, which guides you on washing and ironing the painted merch. Make sure you stick to it so that you can keep the painting in good condition.
Comments