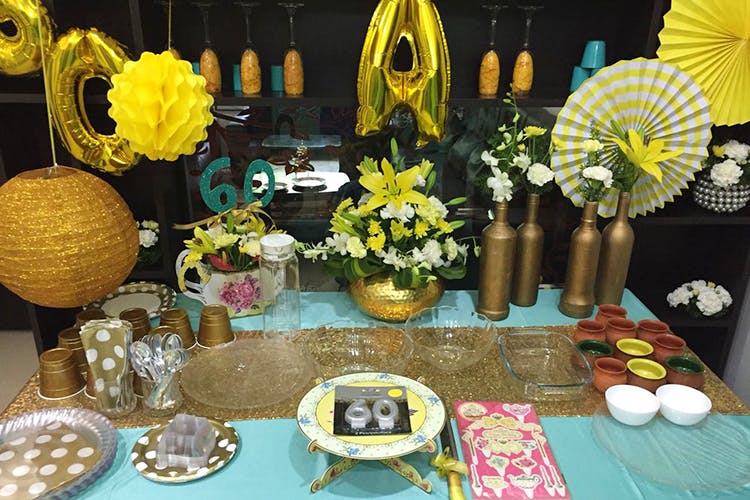 Throwing A House Party Soon? Get Your Supplies Sorted At This Party Shop
Shortcut
Planning a house party and looking for festive party supplies? Then your search needs to end at Twinkles, The Party Shop in Alwarpet.
From Balloons To Wigs
Having been around for more than three years now, Twinkles, The Party Shop specialises in party decor and supplies. Everything from napkins to Halloween masks and party poppers in the shape of champagne bottles to beautiful candles, and even helium balloons are on offer here. The inventory is curated keeping in mind that everything should be easy to set up and of good quality, and their price reflects that. So get ready to shell out INR 1,000 for an attractive bouquet of helium balloons. While that may seem expensive, it's worth pointing out that the helium balloons being sold are no ordinary balloons but ones that are made to store helium and are therefore of higher quality.
They've also got party props, like hilarious wigs, quirky sunglasses, skeletons and lanterns for Halloween, funny signboards with comical captions, and toy weapons to help you add a little zany madness to those otherwise drab photo booth photos. Their balloons are worth mentioning twice as they come in so many different shapes and sizes and are made for different occasions.
Personal Touch
Twinkles goes a step further by offering their party planning and decorating services for special occasions. What if setting up your own party is too much of a hassle, why not have Twinkles do it for you? Their party planning services will take care of everything from start to finish, leaving you stress free. Fees for this service vary based on the size of the occasion, number of people, etc. They also specialise in gift wrapping, and customise every last detail. From gift wrapping paper for different occasions to colourful ribbons and even kind of gifts basket, the store takes gift wrapping very seriously.
To give you an insight in to how customisable their services are, for one of their clients they pinked out an entire scooter! For another they bedazzled a little girl's entire room. They've even held Secret Santa events for groups of people. Twinkles, is party planning central.
Find out more on their Facebook page here.
Comments