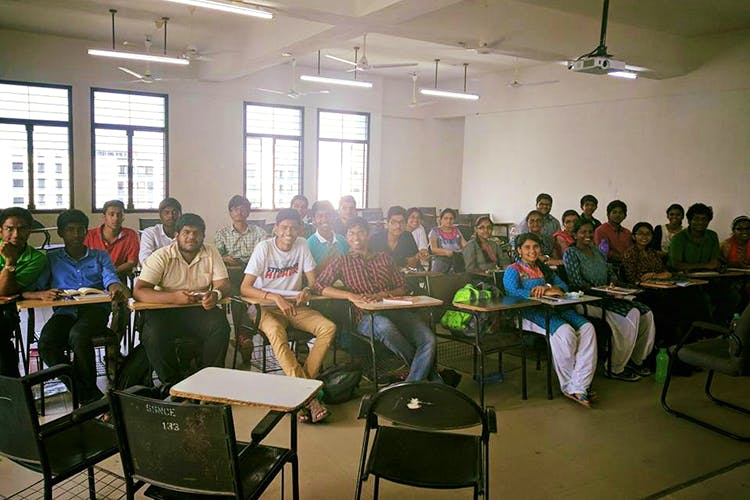 Trip To Germany Or Just Want To Learn The Language? Take These Best German Classes In Chennai
Hallo! Learning German is now a lot more popular than it was a couple of years ago, and there's plenty of schools and colleges that teach it. For those of you not in college but still looking to learn the language, you can learn it right here in the city. You don't have to fly all the way to Berlin to do it or binge-watch on those foreign movies. Check out our list of the best German classes in Chennai.
Viel Glück, mein freund!
Goethe Institut – Max Mueller Bhavan
Recognised by the German government, all german courses in Goethe Institute - Max Mueller Bhavan in Nungambakkam, end with a certificate awarded to you that shows your level of understanding. Courses are split up by duration and intensity of study with there being three options - Extensive (16 weeks), Intensive (12 weeks) and Superintensive (5-6 weeks). Each of their session is 45 minutes long and their batch sizes are around 15-20. The level of certification provides ranges from A1 to C2. What's more, they host international film festivals as well!
INaWORD
INaWORD in Adyar has been around for more than a decade and has been one of the best places to learn German if you're from South Chennai. With centres now in Anna Nagar, Kilpauk and Nungambakkam, it's not just South Chennai that benefits. They aim to get you functionally proficient in the language by training your German reading, writing, listening and speaking skills. Their highly rated classes are made to be interactive and are in small groups of 10-15. They offer short term crash courses (10 hours a week of coaching) and slower long term courses (5-6 hours of coaching). Their schedules are flexible too which is great for when you have a day job. The "Flair" course for adults prepares you for certification in CEFR German Examinations.
Sprachilingua
If Goethe Institut is the gold standard of German understanding, Sprachilingua aims to get you functionally ready to be in Germany. This tiny academy in T-Nagar focuses on teaching you how to speak and converse confidently in German. So much so that they do away with books entirely! All classes revolve around interactions and video sessions and cover topics that are relevant today (like how do you talk to the visa officer after you land, etc). Their hour-long classes have flexible timings and class sizes are kept to around 10-15. They specialise in making you an expert in speaking and understand the words of the language!
FITA
FITA, (Focus'd IT Academy) is a language and IT training academy that handles more students than all four other entries on this list. Their German classes take place at their branches in Velachery, Thoraipakkam and T-Nagar, what's more, is that they're the only entry on this list with a specially designed online German class. FITA also follows the German government-stipulated levels of German proficiency, course duration and length varies on the difficulty of the course and prepares you for the certification in the CEFR German examinations. Their speaking, writing, listening and reading modules are coupled with an extra fifth that we think is a great value add, and that's cultural aspects.
German Academy
German Academy in Arumbakkam specialises in A1, A2 and A3 classes to students and professionals equally. Their syllabus follows the Common European Framework of Reference for Language. from everyday conversations as a tourist to making business deals with clients to even apply to German universities, they prepare you for the future well. All of their classes are 2 hours long in the evening with flexible batches over both weekends and weekdays. You can choose your days according to your comfort!
Comments