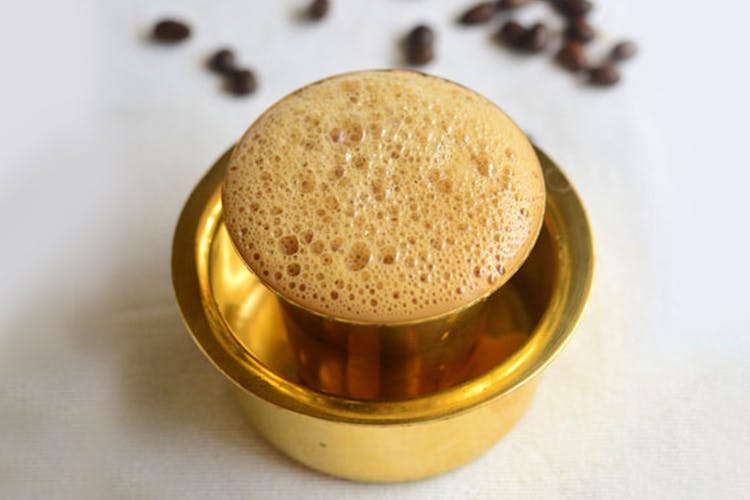 Sip On Tumblers Of Chennai's Filter Kaapi At These Popular Places
The name Madras usually conjures up certain enduring images – and one of them is unfailing that of a steel davra of steaming filter coffee, held dear to every resident's heart, and without which the day does not truly begin. The aroma of this coffee, made from the finest beans and untouched by chicory, is usually enough for one to wax eloquently of the drink's importance to people's palettes and the city's culture, and the sight of frothy coffee being mixed swiftly and matter-of-factly has the capacity to elevate heart rates! Here's a short list of some of Chennaiites' favourite spots (apart from their paati's homes!) to cherish a tumbler of the drink we are so possessive of.
Sangeetha, RA Puram
Find a spot in the much-loved Sangeetha's semi-outdoor seating area, and the Alwarpet traffic whizzing by becomes a blur as you lose yourself in a tumbler of the legendary Kumbakonam degree coffee.
Best relished as a meal-ender, the sensation of the hot, flavourful beverage in your throat is the perfect way to wash down an onion ravadosa and a plate of kuzhi paniyaram. Or perhaps you'd prefer it as an aperitif while you choose from the vast menu!
Ratna Café
While there are several outlets across the city, Ratna Café's iconic Triplicane space remains a favourite amongst Chennai's residents. Enjoy a morning out at the beach, or visit the Parthasarathy temple, and stroll through the charming, old-world streets of Triplicane as you dodge the Kolams and oncoming cows and take in the aroma of filter coffee wafting in from people's homes until you come to this little functional restaurant.
It's not only about the celebrated drink's taste in itself (which is fantastic, of course), but the entire experience. Psst! The sambar here is supposed to be so good you can drink it!
Hot Chips
Hot Chips may be popular for its idlis, chaats and snack items, but it is also surprisingly unanimously thought of as one of the best spots in Chennai for that strong, frothy drink we all so desperately crave at all times of day.
The outlets are functional and crowded– you probably can't hear yourself think over the sound of the clanging utensils and loud chatter, but none of it matters once your coffee is placed with a flourish in front of you – one whiff of that beloved, comforting smell is probably enough to lift your spirits!
Madras Coffee House
Keen on a quick caffeine-fix before you get to wherever you're commuting to? Stop at one of Madras Coffee House's many little kiosks in the city, and get yourself a cup of its fresh, strong filter coffee. The place is efficient and hygienic, service is quick, and you can always request for extra decoction or less sugar. The added incentive is the very affordable price at a time in which inflation has led to Udupi restaurants becoming more and more expensive.
Saravana Bhavan
Another in the Udupi chain that continues to attracts its loyal clientele, Saravana Bhavan's coffee often vies for top spot among other coffee in chennai. The delicious, strong concoction with that hint of bitterness for an aftertaste is a wonderful pick-me-up on lazy afternoons.
New Woodlands Hotel
Despite the burgeoning of a huge number of multi-cuisine restaurants over the city, New Woodlands remains steadfastly un-eclipsed by its newer competition. Apart from the nostalgia for old Madras it evokes, the unfussy, old world interiors, friendly staff and quick service in the restaurant make dining here enjoyable. And there is a legion of Chennaiites who'd take it very personally if you said you didn't like their iconic coffee!
Did we miss something? Click here to recommend.
Comments