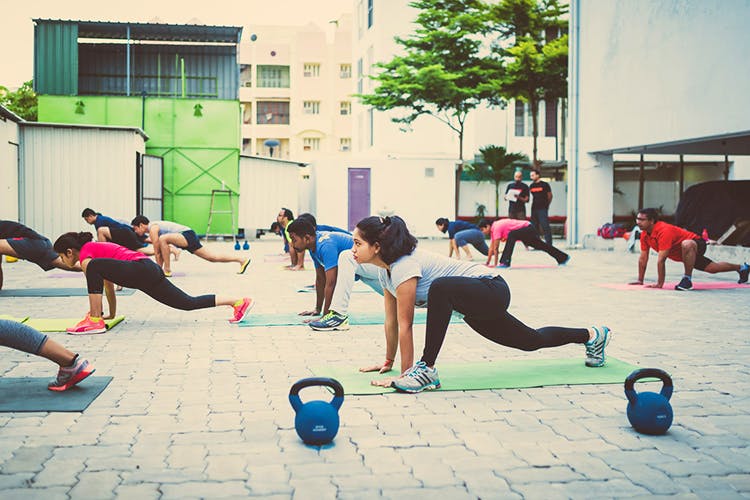 For A Killer Workout Check Out These Functional Fitness Gyms in Chennai
So you've heard that term "functional fitness" thrown around and want to check out what it is. Being Functionally Fit means being physically prepared to perform your daily tasks with ease. Be it chasing a bus or putting that water can on the dispenser, your body needs to be prepared. That's why we're bringing to you a list of the six best functional fitness gyms in the city, for you to check out!
The Quad
The largest of the functional fitness gyms in Chennai, The Quad has four branches (and an office) in Chennai and currently offers four different services: Bootcamp (outdoor group fitness classes), Personal Training (one on one coaching indoors), Nutrition and Physiotherapy. The Quad offers a premium service. Well worth it if you want the best out of functional fitness.
Prices start from INR 18,000 for three months.
The Unit
Led by a passionate fitness enthusiast and a team of the same, the Unit is an indoor training facility in the heart of Kotturpuram. With personalised training programs and a 6:1, trainee to coach ratio, The Unit is one of the few gyms that has an open gym system. You go in and get your training session done at a time that is convenient for you. (No more waking up at ungodly hours to get fit, though that is an option in case you want it!)
Here's a tip – If you're into Olympic Weightlifting, this place is for you.
Prices start from INR 4500 per month.
Primal Patterns
Marketed for athletes, Primal Patterns offers personal training and physical therapy services for their clients. The have three indoor training facilities around the city and offer customised training programs and nutritional advice for their clients. Their equipment is top notch and their trainers are passionate athletes themselves.
Prices start from INR 18,000 per month (for 12 sessions).
Strength System
Started by two young adults who fell in love with fitness, Strength System is a beautiful gym in the center of the city. Similar to the Unit, they too function in an open gym format, with slots available during the day from 6am to 8:30pm. But don't worry they have enough coaches to operate on a max 9:1, trainee to coach ratio, so you'll get plenty of attention, whenever you go.
Prices start from INR 6,000 per month.
Movement Inc
The only functional fitness gym in Chennai that's on a roof! Movement Inc. is based in Thiruvanmaiyur. Though you don't have to worry about the rains as the facility is covered. They offer personalised training programs and limit each batch to 5-6 trainees. Similar to the Quad's bootcamp, Movement Inc. requires you to sign up for three months at a time minimum.
Prices start from INR 15,000 for three months.
F45
The newest in the range of functional fitness gyms, F45 is an international chain that's recently opened in Chennai as a franchise. There are two branches in Chennai (Nungambakkam and Adyar). They operate as a group class, and have specific batches that you can sign up for based on your timings. F45 attracts the younger generation, with their young and talented coaches, loud music, active social media presence, and colourful setup.
Prices start from INR 17,000 for three months.
Comments