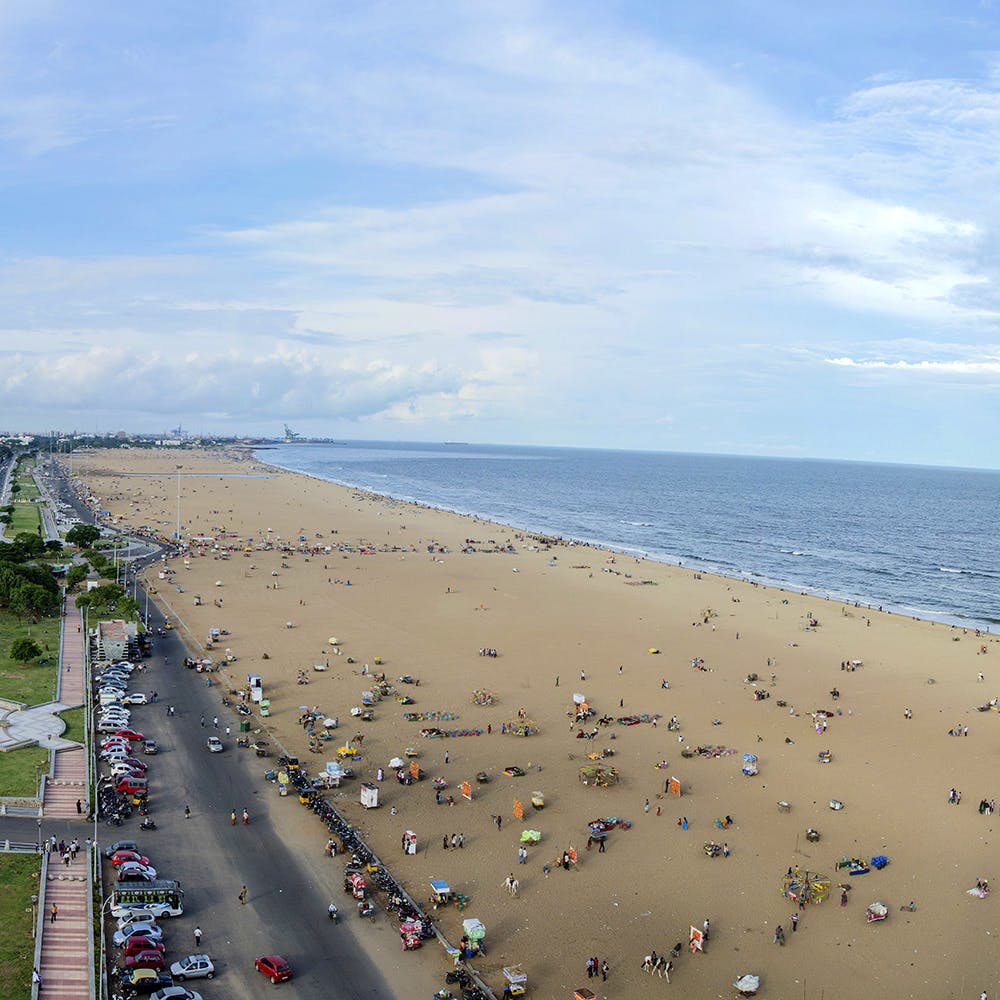 From Breathtaking Sights To Killer Food: Here's Why Going To Marina Beach Never Gets Old!
Apart from holding the title of the longest beach in Asia, Marina Beach is where a lot (and we really do mean a lot) of Chennaites go to spend their free time with friends and family. Yes, it does get pretty crowded in the evenings, but when beach is bae nothing else matters. Here are the things we love doing at the ever sunny, ever sandy Marina Beach. Check them out.
The Lighthouse
Here's a history lesson: the lighthouse at Marina Beach was built in 1976 by East Coast Constructions and Industries (who also constructed the Gemini Flyover). So yeah, it really is pretty iconic. The lighthouse is now open to the public and did you know that it is one of the few in the world that has an elevator and is also solar-powered? Get here if you want a fantastic view of the beach, and the best part? It costs just INR 20.
Sundari Akka Kadai
Craving some yummy, fresh seafood? Stop by Sundari Akka's famous kadai and ask for home-style prawns fry, fish fry, crab and rice. She uses special marinades that will set your palate on fire. She's open for lunch and dinner, and you can even give her a call to know if her stall is open (during the rains). Can't find her colourful kiosk on the long stretch? Just type in Sundari Akka Kadai on GPS, and you're sorted.
Marina Kart Arena
If you're out with the gang and looking for something fun to do, drop by this go karting track in the north side of Marina Beach. You get to cover 12 laps or race around the 400m track for 5 minutes and it costs about INR 330. They've got double seaters if you just want to let your friend or bae do most of the racing. But if you don't want to part with the wheel, they've got single-seaters as well. During weekends, it's probably best to give them a call and book your race karts before you get there. Happy racing! For more options, go-karting options in the city, click here.
Street Food Galore
What's a trip to the beach without nibbling on some local snacks, eh? After longs walks by the coast or dipping your feet in the cool cascading waters, take a break with a snack. Get everything from roasted corn, mango slices with chilli powder, cotton candy, bajjis, sundal, ice cream and more. The local vendors are only happy to serve, and it usually doesn't cost more than INR 50. For more street food places in the city, click here.
Heritage Spotting
Gawk at the many Indo-Saracenic buildings spread across this long stretch. Morning and evening walks are perfect to catch just a little sun and while doing so you can spot the many lovely buildings and be amazed at the Colonial-style architecture — from University of Madras' Senate House to Presidency College and Fort St George, and more. You can even find statues in honour of Mahatma Gandhi and memorials of politicians like MGR and Annadurai. So get a dose of history and culture the next time you head to this beach. For more heritage structures in the city, click here.
Did we miss something? Let us know in the comments below!
Comments