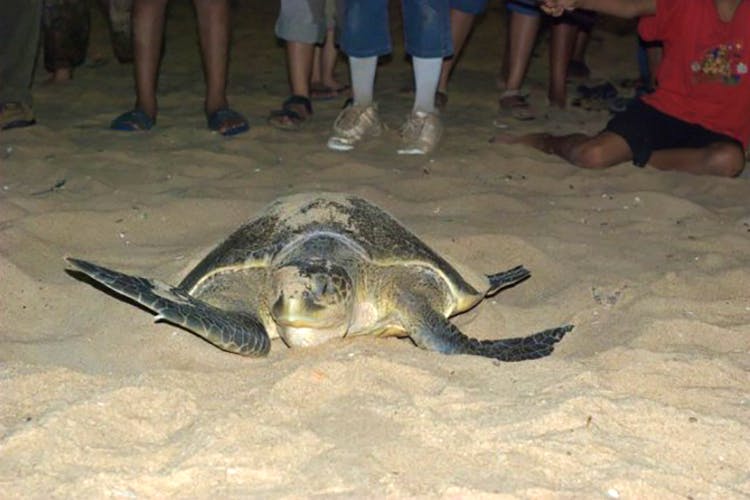 Unique Experiences In Chennai You Must Sign Up For Right Now!
Every city has its own quirks and deets that makes it unique. Here's a list of unique experiences in Chennai you must sign up for to truly be able to claim you've lived your best life here, yet!
Riding In Anna Durai's Amazing Auto
Driving mostly around OMR, Anna Durai offers an auto ride like no other in the city. Accepting rides through his own app (like Ola and Uber), his auto comes with newspapers, magazines, free Wi-Fi, the option to avail to a laptop or a tablet and a video screen. He even plays music from other parts of the country if you'd request him and accepts payment via Paytm! It's all about customer satisfaction here, making it a trip worth taking.
Read more here.
Late Night Turtle Walks
Chennai attracts the famous Olive Ridley turtles between January and April every year and has an active network working towards conserving these beautiful species. By participating in turtle walks, you not only get to connect with nature but can also get a chance to contribute towards protecting these creatures. The process involves collecting turtle eggs, relocating them to a safe place and also watching as the baby turtles are set free into the ocean, all for no money whatsoever. Pretty cool, right?
Driving Along The Bay Of Bengal
Chennai so proudly boasts of having the largest beach in the country, the Marina Beach, along with a slew of private beaches along the OMR and ECR stretch, all painting beautiful pictures of the Bay Of Bengal. A drive down these roads not only is super scenic but also unique in the sense that you get to witness the water from different perspectives? Isn't that amazing?
Reading At Anna Centenary Library
Love books? Chennai lets you declare that love through its iconic Anna Centenary Library that is the largest library in Asia. Spread across a sprawling 3.75 lakh square feet of land, housing eight floors of books, this place is simply amazing. You can also work here, read your own books or skim through the bombastic collection of books this place already offers. Calm, serene and truly conducive, reading or working here is truly blissful.
Read more here.
Watching A Movie At Prarthana Theatre
Yes! You can make your fantasy of watching a movie under starry skies come true in Chennai. With Prarthana drive-in theatre, you can enjoy a good Tamil and occasionally an English movie in the comfort of your own car. A beach-side open theatre, these guys screen two shows - one at 7:30 p.m. and another at 10:30 p.m, which you can book for online. Simply awesomesauce!
Read more here.


Hanging Out At De Monte Colony
Chennai has quite a few spooky spots but De Monte Colony in Alwarpet truly stands out. The spooky buildings and tales of horror this place comes with can set anyone's heart racing. Definitely not for the faint-hearted, even passing by this lane can incite fear and excitement for some.
Going For A Rajni Movie
Superstar of the millennia, going for a Rajni movie in Chennai is a massively cool experience in itself. Something, not just every Chennaite but Indian knows. From abhishekams to bursting crackers, a Rajni release is no less than a carnival and a mighty grand one at that. And if you love pomp and show, this one is something you must experience first hand and get a taste of hardcore fandom.
Comments