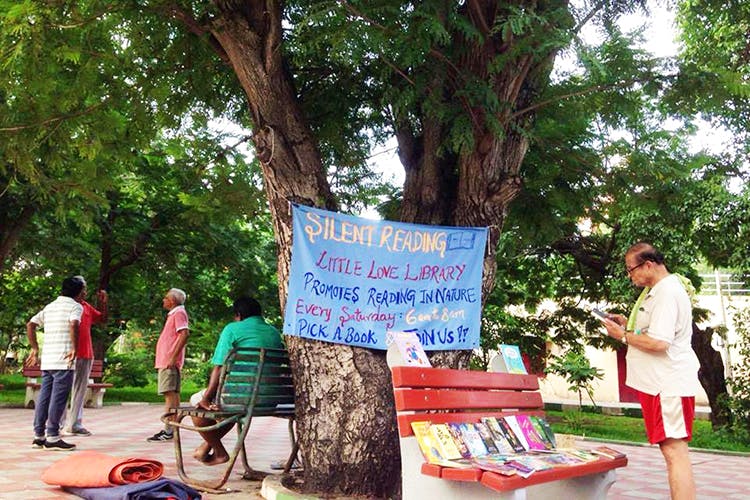 Bookworms, Read Your Fave Books & Argue For Hours Over Coffee & Munchies At The Best Book Clubs In Chennai
If you're all about books, read books (and each other) and discuss all your whacky theories with a group of people at book clubs. It's not too common in Chennai, but our book club culture is just beginning and is gaining popularity. Discuss everything from your favourite books to movie adaptations and fan-fiction at these book club in Chennai.
Chennai Coffee & Books Meetup
If you want to talk shop over hot coffee, you've come to the right place as that's exactly what Chennai Coffee & Books Meetup is all about. Bring any book, share your thoughts about it and discuss over coffee and munchies. With a free rolling agenda and meet ups on weekends, this one's for the bookworms.

Food Poets Society
Food Poets Society is a definite yes-yes for those who love food and reading. They started just a month ago and host book-exchange parties, discussions, and fun events at 80 Degrees East, a cafe in Nanganallur. Just RSVP and join the best bibliophiles in town!

Chennai English Book Clubs
If you love discussing plot twists and plot holes like there's no tomorrow, you need to check out Chennai English Book Clubs. The agenda or the the novel is decided and you can share your insights at during the book club meet up. On March 10, Chennai English Book Clubs is discussing "Milkman" by Anna Burns, are you ready? It's happening at Sandy's so, gorge on delish food while speaking your heart out about the book.

Chennai Tamil Book Readers
For those who love Tamil literature, this book club is a must-attend. The book club is open to both writers and readers of Tamil books and works of authors like Sujatha, Kalki, and Balakumaran are frequently discussed. Get geeky and unleash the தமிழ் bibliophile in you!

Little Love Library
Little Love Library is a cute little library in Anna Nagar and they have a book club too. They regularly meet and host book reviews, readings and storytelling sessions. They are known for hosting silent-reading sessions where everyone sits together and reads a book silently. The book club has hosted over 50 such sessions, so check them out!

Broke Bibiliophiles
If you relate to the name of this book club, welcome! You're on of us. Broke Bibliophiles, a nation-wide book club, hosts discussions about books that members are currently reading or have read. This is a great chance to get together a new reading list across genres so you can bury yourself in books for the rest of the month!

Comments