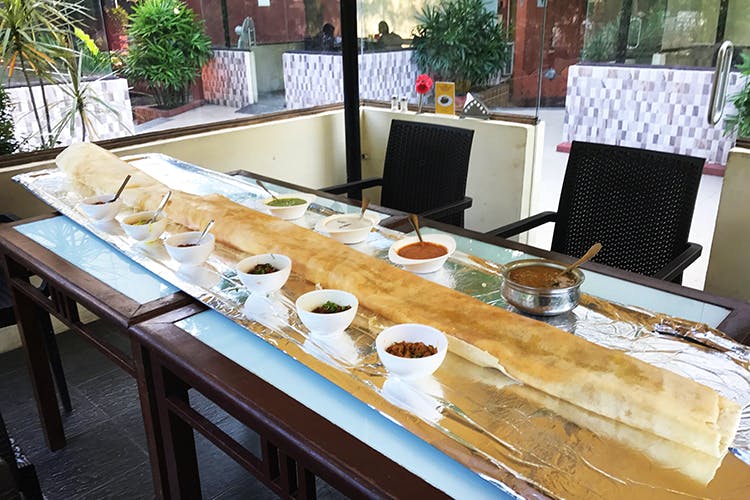 Did You Know That You Can (Attempt To) Eat A Massive 8-Feet Dosa Right Here In The City?
Shortcut
Annachi Dosa Kadai, next to VGP Universal Kingdom (a theme park in ECR) serves 8 feet and 4 feet dosas! How many Chennaiites does it take to finish an 8-feet long dosa? We'll tell you that and more!
What Makes It Awesome
Introducing you to the most unbelievable meal yet in Chennai. Unbelievable till it got on to the table, Annachi Dosa Kadai's 8-feet-Dosa has actually been around for 30 years. Tossed by the super friendly Chef Ganesh since the 1980s and made on the usual dosa kalu, the 8 feet dosa is made by pouring the batter of three huge dosas on one big stove. With three waiters serving it for you, watching the dosa come to you itself is a delight!
The dosa is crisp and quite thick unlike its appearance and would easily serve a gang of eight people. What adds to the hype is their sides. This one of a kind dosa is unique thanks to the stuffing – find paneer, corn, chicken, potato and mutton masala. The dosa is served in two ways. You could either request them to stuff the different accompaniments for you in the dosa or you could just dip the dosa into the curries from the bowls. Though their sambar and chutney servings are ordinary, our favourite from the side dishes was definitely their soft paneer. This is priced at INR 1,970 plus taxes. And yes, you also get non-veg versions with chicken and mutton priced at INR 2,365. If you have a smaller appetite try their 4-feet dosa available in the same combos, priced at INR 1,315 and 1,185 plus taxes.
Other dishes you can try here are the Mango Fish and Chettinad Chicken which is bestsellers.
Pro-Tip
Though available on all days, we recommend you pre-book your special dosa, to avoid delay or lack of availability.
Comments