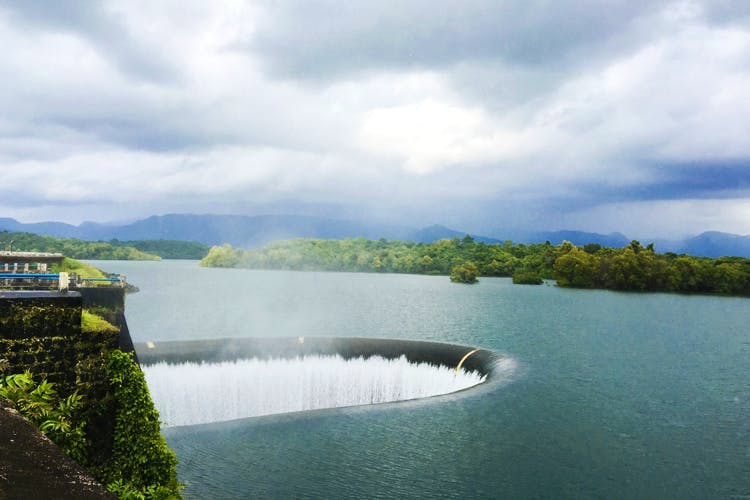 These Secret Travel Spots Will Blow Your Mind
Plan your holidays around these stunning and not the usual travel destinations and stays. Guaranteed happiness and strong Instagram game — what more can you ask for?
The Dam That Looks Like A Hole In The Earth
The Salaulim Dam in South Eastern Goa looks like a portal straight out of a sci-fi movie. This engineering masterpiece has what is called a unique spillway that gives it that circular shape. Photography is unfortunately not permitted around the dam. Shutterbugs, the surrounding water body is a haven for migratory birds like herons and egrets, so be sure to check that out. Salaulim Dam also has great picnic spots surrounding it. For more on this amazing 140-foot drop dam, check out our recommendation on it here.
A Small Private Island Which You Can Book For Your Next Holiday
What could be more romantic than spending a weekend away at your own private island in Kerala? Oye Happy, a website that curates the most unique gifting ideas, lets you book a tiny cute island in Kollam, Kerala. This highly sought after service also includes candlelight dinners, houseboat tours, kayaking, fishing, and your own personal master chef. The island itself has a farm, where you can pluck fresh produce, a cozy wooden farmhouse that will be your place of stay, and endless backwaters surrounding it that are filled with flora and fauna.
Stay At This Seaside Paradise And Visit An Underwater Ghost Town
Rameshwaram's beaches look like the photos you'll see in a National Geographic magazine, clear blue waters and white sandy beaches. There are water sports like kitesurfing, kayaking, parasailing, snorkelling, jet skiing and paddle boarding at Holy Island Water Sports and Quest Expeditions, Rameshwaram's only two water sports facilities/seaside resorts. There's loads of seafood to be had as well, thanks to the thriving sea life in the waters nearby.
Next to all of this lies, Dhanushkodi a ghost town that was destroyed by a catastrophic cyclone in 1964. The town itself was a bridge between India and Sri Lanka but is now submerged since. The ruins above water are almost like a museum as some of the damaged buildings are still standing. Tours to Dhanushkodi are operated by the local tour operators.
A Hidden, Beachside Villa Close To Chennai For That Me-Time
This property is a 30-minute drive from Chennai in Kovalam and is just 50 meters from the beach! The property itself is quite beautiful and as has two bedrooms with floor to ceiling glass, a fully furnished kitchen, a wide open living room, a sit out over-looking a private garden. The property is kept airy and cool with its large windows that let light and air flow through in spades. Great if you're looking to wake up at the crack of dawn, terrible if you're not, but don't worry they've got thick blinds for the bedrooms so you can sleep in if you want to. The property also has a private entry to the beach and is pet friendly. Read more here.
Comments