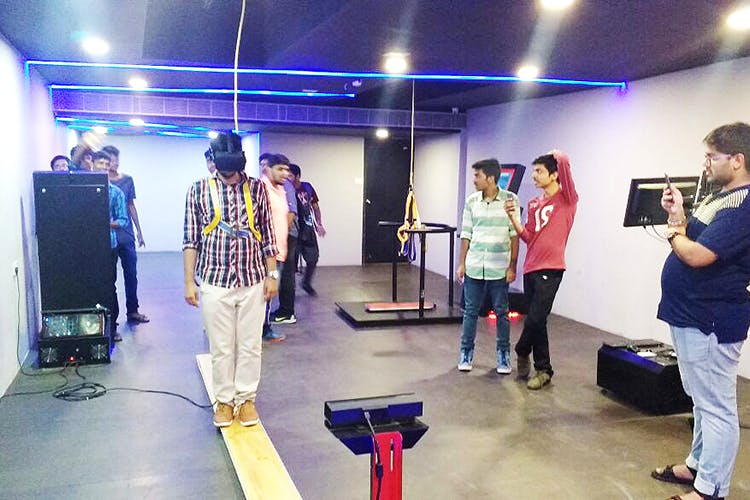 Be A Dragon Rider Or Fly A Spaceship At This VR Gaming Centre In The City
Shortcut
VR Galaxy (at Ispahani Centre and Mayajaal) is a gaming paradise for adults and kids alike. Whether you're a sports fanatic, a gamer or just someone who wants to escape reality, you might want to check out VR Galaxy.
What Makes It Awesome
Explore a new you at VR Galaxy through the many games (more like experiences) that they have to offer. Their latest version of VR coupled with motion tracking, the VR headset, and cool graphics, transports you into a world beyond reality.
Balloon Terror happens to be one of their most played games. It starts off with you enjoying the wind on your face (yes, you actually feel this) with a spectacular view from your hot air balloon that suddenly catches fire. The game (which costs about INR 150) begins when you are required to walk on a thin wooden plank that connects your burning balloon to another one nearby (that's not caught on fire, obviously). Be wary of your friends who aren't a part of this reality because they'd probably enjoy taking videos of you as you scream for your life!
The other games at VR Galaxy are also pretty interesting. There's Soccer Head for all you football fans where you literally use your head to direct soccer balls at various targets. You need focus, direction and a strong head to win at this game. They also have Hover Board where you have to dodge the obstacles and maneuver through narrow lanes on a virtual hoverboard.
They have some more games also, like Space Lord where you get to fly your own spaceship and invade other alien spaceships, Dragon Lord in which you ride on a dragon to collect golden eggs and Raptor Rampage where you have to escape from dinos! And what's more, VR Galaxy has a Gaming Festival that's happening up to Saturday, September 30, where if you score more than 25 points on Hover Board you win a cash prize of INR 2,500.