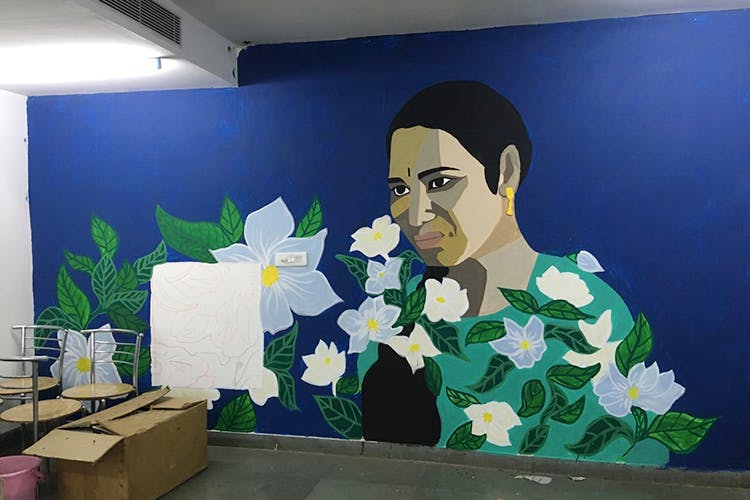 Give Your House A Makeover With These Artists Who Paint Walls At Budget Prices
If you're super neurotic about everything in your room - right from the lights to what goes on the bed stand, we feel you. But who has the budget for all things fancy? So, here is a list of artists who can give your house that statement wall! The price varies depending on the square feet and how intricate the designs are!

Shakunthala
Looking for Indian folk art on your wall? Shakunthala will paint it for you at INR 400. She has painted Kalamkari motifs, Kerala mural paintings, Pattachitra, and Gond with acrylic paints. She likes to bring in more than one type of Indian fork art, and dabble with floral patterns and peacocks. Shakunthala will tell you what thinking out-of-the-box means - she recently painted a brown Wonder Woman in an Indian attire (saree) with gold jewellery, on the compound of SVA school. Whether you're looking for traditional Indian art or some quirky pop-culture icons, Shakunthala is up for it! Are your walls ready?

Ghana
Ghana has been in the painting business for the past one year. Be it the living room or the bedroom, Ghana can make anything her canvas. She painted local flora and fauna with a mystical realism theme on walls in Coorg. She shifted base to Uttarakhand and painted the walls (with natural dyes) of several houses in Khati village. She has also been part of a project where she painted 30 portraits of 30 women with inspiring stories on 30 walls across the country starting from Kanyakumari to Sri Nagar. Ghana has grown up loving wildlife and associates every person with an animal. Her wildlife designs and portraits of birds, insects, and quick sketches of fauna connect people to animal. So, want your spirit animal on your wall? You can get it starting INR 1,000.
Lotuzhead
Known among artists as 'Lotuzhead' this artist loves integrating the national flower of the country into his paintings. He works with figurative flora and his wall art reflects ideas of lucid dreaming and connect metaphorical elements with the human form. Phew! He mixes portraits in his wall art, too. From emulsion and enamel paints to acrylic and spray cans, he has tried his hand at different textures. His painting on the walls near Marina beach is one of the biggest works for modern street art in the city. He has made art inspired by Mahakavi Bharathiyar's poems. He also painted the gate of Wandering Artist, a masquerade mask and wings with the elements of theatre, music, and art. If you want some trippy, abstract art, give him a call and you can get amazing wall art starting INR 400!
Aarthi
If paints bore you, try 3D with Aarthi. She also adds elements of decoupage on her walls. She will give you a wall that looks and feels different. She works on getting a 3D impasto effect on her paintings and creates a different texture on the wall, so when you touch it, it feels different from the otherwise ordinary wall. She uses acrylic paints and recently replicated the 'tree of life' on a huge wall, where she painted birds and flowers using decoupage. Want a Midnight In Paris themed wall in your bedroom? Aarthi will paint that for you starting INR 500. Oh, and she paints on everyday objects, too!
Comments